RESOURCES
---
A RETURN TO YOUR GENUINE SELF BLOG
---
HEALING FROM SEXUAL ABUSE FACEBOOK GROUP
---
The goal of the Healing from Sexual Abuse group is to provide a safe space for survivors to come together to receive support and guidance and to learn about the importance of healing the brain.

UPCOMING EVENTS
---
Adult Survivors of Child Abuse Virtual Support Group Meeting
4th Monday each month via phone.
Donations accepted. No one turned away for lack of funds.
ASCA is an innovative and effective support program designed specifically for adult survivors of physical, sexual, and/or emotional child abuse or neglect, bringing them together within a nurturing and supportive community.

AUDIO PROGRAMS
---
MASTER CLASSES ($10 mp3 download)
---
FEATURED VIDEOS
---
LATEST NEWS
---
Interview on KTVU Fox 2 Morning Show
Interview on Shrink Rap Radio with David Van Nuys, watch now...
Interview on 12 Minutes Convos with Engel Jones, listen now...
Featured in book of poems & stories, "Out of the Darkness", download your copy...
Featured in eBook, "It's Not Just You", download your copy...
Healing the Wounds of Sexual Violence through Coaching, read more...
Interviewed for "How One Person Can Change the World" series, read more...
Featured on ceoblognation.com - Why Did You Start Your Business?, read more...
START YOUR JOURNEY TODAY
---
To start your journey to Beyond Surviving, your first step is to complete a brief application to receive a complimentary Discover Your Genuine Self session.
During our time together, we will:
Discover the #1 belief that blocks you from letting go of the past and moving on with your life
Create a vision of the person you will be once you strip away the lies and pain of abuse
Identify your fears and doubts that keep you from achieving this vision
Learn the powerful actions that will move you from feeling burdened and broken to finally feeling free and normal
Decide if the Beyond Surviving program is the best next step for you
APPLY NOW!
---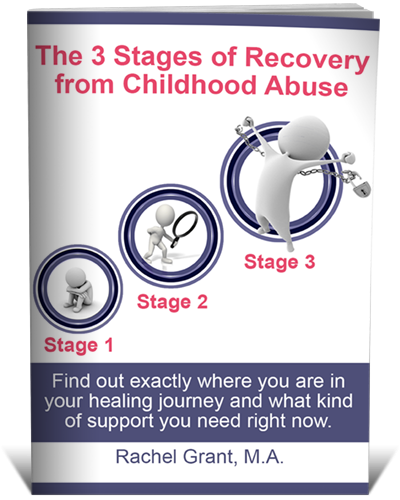 Sign up for my free guide so you can stop spinning your wheels and instead navigate your way through each stage of recovery with ease and clarity. Get the support you need today!
GET YOUR COPY